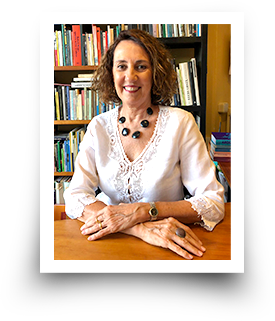 Verena Andreatta
When she moved to Rio de Janeiro at the age of 11, accompanied by her parents and five siblings, Verena Andreatta was enchanted by the extent of public spaces. A resident of Ipanema, the girl was fascinated not only with the beach, but also with places such as Jardim de Alah and Nossa Senhora da Paz Square. Meeting points of the population: wide, green and magnanimous. Born in Curitiba but from Rio in her heart, these scenarios go along with her throughtout the professional life. Architect and urban planner, PhD in Urbanism and Territorial Management by the Polytechnic University of Catalonia, in Barcelona, ​​Verena has devoted much of her career to making public spaces areas of pleasant living and well-being. She was part of the main urban projects of the last decades and was one of the responsible, when Municipal Secretary of Urbanism, for the conquest of the first World Capital of Architecture title for Rio de Janeiro. "Rio is the synthesis of Brazilian and international architecture because it brings a unique blend of all existing styles, from the colonial times to the modern and contemporary. We have and always had great architects who understood the space that was being designed", says Verena.
1. Flamengo Park, "a harmonious combination of an urban park with an efficient road structure, unique and incomparable landscaping and emblematic architecture."
2. Social Housing Complex (Pedregulho), by architect Affonso Eduardo Reidy, "a pioneering popular housing project with a main unit surrounding the hill and integrating the houses to school, gymnasium, health unit, market, laundry."
3. Church of Our Lady of Glory, "so beautifully set on the headland."
4. Guinle Park, "an innovative urban project by Lucio Costa, with residential buildings arranged around gardens (3 of them designed by him) and four others designed by the Roberto brothers, give personality and unique architectural design."
5. Capanema Palace - "building of the Ministry of Education and Culture, a must visit for all architecture and urbanism professionals. Architectural masterpiece of the modern movement, the building was designed by a team of architects composed of O. Niemeyer, J. Machado Moreira, Affonso E. Reidy, Carlos Leon, E. Vasconcelos and Burle Marx Gardens and was attended by Le Corbusier."
1. Flamengo Park, "a harmonious combination of an urban park with an efficient road structure, unique and incomparable landscaping and emblematic architecture." Photo: Pedro Kirilos|Riotur

2. Social Housing Complex (Pedregulho), by architect Affonso Eduardo Reidy, "a pioneering popular housing project with a main unit surrounding the hill and integrating the houses to school, gymnasium, health unit, market, laundry." Photo:Michel Filho|Rio City Hall

3. Church of Our Lady of Glory, "so beautifully set on the headland." Photo:Michel Filho|Rio City Hall

4. Guinle Park, "an innovative urban project by Lucio Costa, with residential buildings arranged around gardens (3 of them designed by him) and four others designed by the Roberto brothers, give personality and unique architectural design." Photo:Alexandre Macieira|Riotur

5. Capanema Palace - "building of the Ministry of Education and Culture, a must visit for all architecture and urbanism professionals. Architectural masterpiece of the modern movement, the building was designed by a team of architects composed of O. Niemeyer, J. Machado Moreira, Affonso E. Reidy, Carlos Leon, E. Vasconcelos and Burle Marx Gardens and was attended by Le Corbusier." Foto: Michel Filho | Prefeitura do Rio