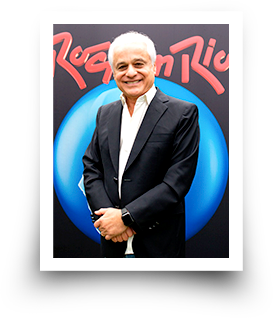 Roberto Medina
Passing one morning in the 60s through Aterro do Flamengo, Abraham became concerned. The plants that gave life to Burle Marx's landscaping suffered from a lack of rainfall and no longer exhibited the characteristic opulent green. A few weeks later, his son Roberto, then a young man who helped with his father's company accounting, received a payment order for 600 water trucks. Surprised and crediting the charge for a mistake, he consulted Abraham. In response, he received the statement that the receipt was correct despite the family's financial crisis. The fleet had been hired by him to water the plants in Rio's largest urban park.
Roberto Medina grew up with this kind of example. The businessman, who transformed the city name into a brand with the creation of Rock in Rio, was raised in a house where the focus was the love for the city. There are many addresses in Rio that mix pride and good memories. The guiding principle of the itinerary proposed by Roberto is his deep appreciation for Rio. It is natural for him that the city has been chosen as the first World Capital of Architecture. "Rio is ready. We just have to turn on the light and open the ticket office", says the businessman who bets on tourism as a pathway for the economy of Rio de Janeiro.
1. Peixoto Neighbourhood (Bairro Peixoto) - "In this unique part of Copacabana I spent my childhood, I remember the fountain and the whimsy of landscaping."
2. City of Rock (Cidade do Rock) - "This is where I live, where I put into practice everything I want for Rio de Janeiro. I'm a perfectionist and take care of every detail of this 'city'."
3. Copacabana Palace - "This building is a reference of glamor. It reflects a Rio de Janeiro that we wanted to be and that we need to rebuild."
4. Aterro do Flamengo - "A unique space in the world and a passion I inherited from my father."
5. Urca - "It is a city inside our city. I did not know the Casino but I remember going to the beautiful building of the old Tupi TV where I recorded my first advertisements."
1. Peixoto Neighbourhood (Bairro Peixoto) - "In this unique part of Copacabana I spent my childhood, I remember the fountain and the whimsy of landscaping." Photo: Bernardo Pereira

2. City of Rock (Cidade do Rock) - "This is where I live, where I put into practice everything I want for Rio de Janeiro. I'm a perfectionist and take care of every detail of this 'city'." Photo: Eliane Carvalho|Riotur

3. Copacabana Palace - "This building is a reference of glamor. It reflects a Rio de Janeiro that we wanted to be and that we need to rebuild." Photo: Alexandre Macieira|Riotur

4. Aterro do Flamengo - "A unique space in the world and a passion I inherited from my father." Photo: Alexandre Macieira|Riotur

5. Urca - "It is a city inside our city. I did not know the Casino but I remember going to the beautiful building of the old Tupi TV where I recorded my first advertisements." Photo: Alexandre Macieira|Riotur