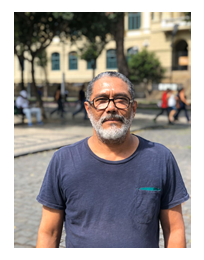 Jeferson Salazar - architect and urban planner, president of the Rio de Janeiro Architecture and Urbanism Council (Cau-RJ)
Before buildings and large buildings, parks, gardens, squares. The concept of city for Jeferson Salazar involves living spaces and privileges the meeting as the essence of what is urban. It is in public areas that the exercise of coexistence is performed. "Iconic buildings are representations of power, and its splendor, as well as their scale, distance the population from the real perception of the social function of the architecture and urbanism profession. This is not what I value most," he says.
Born in Maranhão, Jeferson moved at the age of three to his maternal grandmother's house in Lins de Vasconcelos. It is in the North Zone that he recognizes the essence of the spirit of solidarity of Rio de Janeiro citizens, of welcoming. A resident of Rocha, he applies in his daily life the diversity he values in urbanism. "I recently went with my 17-year-old son to a funk ball at Méier. Why wouldn't I go? The city is the meeting place, the greatest product of human culture, and only exists through the coexistence of differences," he says.
1 – Madureira Park – "An extremely plural place that the population appropriated. It's fantastic as a meeting place and for art, music, poetry ... An endless diversity of activities and profiles."
2 – Cinelândia – "Cinelândia is surrounded by representative buildings that tell the history of Rio de Janeiro and Brazil. It is a place of manifestations and coexistence between differences."
3 – Sambadrome - "In addition to being beautiful, this Niemeyer project brings together many uses. It is a space for great shows at certain times, but it is also used throughout the year for education. And education is synonymous with emancipation."
4 – Mayor Mendes de Moraes Residential Complex (Pedregulho) - "A beautiful project by architect Affonso Eduardo Reidy, a civil servant, who brings pioneering concepts. The curls of its curves accompany the land's relief and bring housing together with a very strong social conception, including incorporating spaces for common use."
5 – "Another gift from Reidy to the city: a public space where diversity reigns. All extracts from society interact in this beautiful garden in a unique way."
1 – Madureira Park – "An extremely plural place that the population appropriated. It's fantastic as a meeting place and for art, music, poetry ... An endless diversity of activities and profiles." - Photo: Alexandre Macieira|Riotur

2 – Cinelândia – "Cinelândia is surrounded by representative buildings that tell the history of Rio de Janeiro and Brazil. It is a place of manifestations and coexistence between differences." - Photo: Alexandre Macieira|Riotur

3 – Sambadrome - "In addition to being beautiful, this Niemeyer project brings together many uses. It is a space for great shows at certain times, but it is also used throughout the year for education. And education is synonymous with emancipation." - Photo: Cezar Loureiro | Riotur

4 – Mayor Mendes de Moraes Residential Complex (Pedregulho) - "A beautiful project by architect Affonso Eduardo Reidy, a civil servant, who brings pioneering concepts. The curls of its curves accompany the land's relief and bring housing together with a very strong social conception, including incorporating spaces for common use." - Photo: Michel Filho/Prefeitura do Rio

5 – "Another gift from Reidy to the city: a public space where diversity reigns. All extracts from society interact in this beautiful garden in a unique way." - Photo: Alexandre Macieira|Riotur